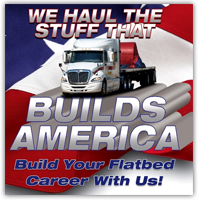 Drive For WTI
Why Drive For WTI?
WTI Transport has been in the flatbed industry for 30 years. When you join the WTI Family, you not only get an exciting career, you get a company that will always be here for you. An open door policy and family atmosphere is alive and well at WTI; You are important and will get the individual attention you deserve by your Fleet Manager..
WTI is an open deck/ flatbed carrier servicing approximately 26 states, primarily in the Southeast, Southwest, Northeast, and Midwest. Our main shipments consist of roofing, building materials, and all types of iron and steel products. WTI's drivers on average are the highest paid flatbed Company drivers on the road by receiving percentage pay rather than pay per mile. We offer excellent home time, with great benefit packages customized to you and your family's needs. You can choose the fleet that meets your family needs. Based on your residence you can choose to run short or long haul.
"I've been with WTI for 24 years and they're just an all-around great company to work for. I get paid well, treated with respect and make it home just about every day. As far as I'm concerned, they're one of the best companies out here and have a lot to offer drivers." - Willie Barnes
"When I started working with WTI, I thought they'd be like every other company out there who was just trying to put a body in a seat. My experience at WTI has been way beyond what I expected. They pay on percentage instead of mileage, which means that I run less miles and make the same amount of money as the guys running nearly twice as many miles as I do. That, and the atmosphere is great. Several of the people in the office are close friends. I can't imagine having a career with anyone else." - Chris Casiday
Join our team - you won't regret becoming part of our family.
DRIVER QUALIFICATION REQUIREMENTS
Must be at least 23 years old.
Must possess a Class A CDL license.
Must have one year of verifiable over the road experience in the last 2 years. No flatbed experience required. We will train
Must live in WTI Hiring Area.
No more than three moving violations in 3 years and 4 in four years. (Tickets are weighted for severity.)
No excessive speeding tickets within last 3 years.
No DUI, reckless or careless driving violations during the prior 5 years.
Disclosure of felony convictions will not automatically exclude an applicant.
Preventable accidents count as moving violations.
Must meet all requirements of a Commercial Motor Vehicle Driver as described in the Federal Motor Carriers Safety Regulations.
Must be able to pass a physical agility test.
All applicants will be subject to extensive background checks!!