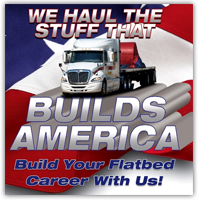 Company Drivers
WTI pays drivers on a percentage basis. If you choose to be an OTR driver you'll receive 28%. If you select to be home every weekend your percentage will be 26%.
In 2022 our top company drivers earned over $60,000 with the highest earner making more than $99,000.
BENEFITS:
Paid weekly
Medical, dental, vision and life insurance
Short term disability
Rider program
Take your truck home
Deadhead pay
401(k)
Tarp pay
Layover pay
Paid vacation (after 1 yr)
Home time - Weekends
Driver Referral Program
$200 per Clean Roadside Inspections
DRIVER QUALIFICATION GUIDELINES*
Must meet all FMCA Regulations
Must be at least 23 years old and possess a current Class " A" CDL license.
Must have 12 months of current, verifiable over the road experience during the prior 2 years. Must have one year over the road current verifiable experience minimum for Flatbed Training Program.
No more than three moving violations in the previous 3 years and 4 in 4 years.
(Violations are weighted for severity.)
DOT recordable accidents will be reviewed requiring a copy of police report.
No excessive speeding violations or citations within the previous 3 years.
No reckless operations or careless driving convictions within the previous 3 years.
No DWI, DUI, or Driving While Impaired convictions during the prior 5 years. No history of multiple DWI, DUI, or Driving while impaired Convictions.
No drug and/or alcohol charges in commercial vehicle.
No multiple prior CDL Suspensions or Revocations.
Must pass a DOT Controlled Substance Screening Test
Must pass a DOT Physical Exam and a WTI Agility Test
Must meet all requirements of a Commercial Motor Vehicle Driver as prescribed in FMCSR pt.391.
Must live within the WTI hiring area.
Must have possession of CDL issued from state in which the driver resides.
All prior vehicle accidents within the prior seven years must be disclosed
Must have stable work history.
PRIMARY DUTIES AND RESPONSIBILITIES INCLUDE:
Move freight from point A to point B safely and efficiently
Communicate with Fleet Manager daily
Comply with WTI Transport and FMCSA rules and regulations
Report any accident to Safety Director and Fleet Manager
Perform other related duties and assignments as required
PHYSICAL REQUIREMENTS:
Lift up to 110 lbs.
Able to squat, crouch and reach as needed to handle freight,
Able to enter and exit the vehicle's cab numerous times each day
This is not a complete list of all qualification, duties, responsibilities or physical requirements. Disclosure of criminal convictions will not automatically exclude an applicant from employment. Criminal convictions will be reviewed in relation to the nature of job applied, the nature and seriousness of the offense and the length of time since it occurred.
APPLY NOW to get started.