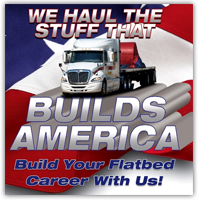 Owner Operators
WTI compensates Independent Contractors on a percentage basis. With your tractor only, you earn 70% of gross revenue, with no trailer fee. With your tractor and trailer, you earn 77% of gross revenue. In 2022 our Top Earner made over $350,000.
Owner-Operators are not just truck drivers; they are entrepreneurs who drive trucks. Our fleet managers understand this concept and know "YOU are the boss and will always be treated that way."
Benefits: Stay Loaded -- "Pay on Demand" -- Get Home
Centralized Dispatch (NO FORCE)
100% Fuel Surcharge Paid
Home Weekends
Compensated Weekly or "Pay On Demand"
Short Haul or Regional and Long Haul
Discounts on Fuel, Maintenance, Parts, Tires, etc
Pre-Pass Program
Base Plate Program
Rider Program
Fuel Taxes Paid by WTI
Expert Fuel Program Save Up To .43 Per Gallon
DRIVER QUALIFICATION REQUIREMENTS
Must be at least 23 years old.
Must possess a Class A CDL license.
Must have one year of verifiable over the road experience in the last 2 years. No flatbed experience required. We will train!
Must live in WTI Hiring Area.
No more than three moving violations in 3 years and 4 in four years. (Tickets are weighted for severity.)
No excessive speeding tickets within last 3 years.
No DUI, reckless or careless driving violations during the prior 5 years.
No multiple (more than one) CDL suspension or revocation.
Disclosure of felony convictions will not automatically exclude an applicant.
Preventable accidents count as moving violations.
Must meet all requirements of a Commercial Motor Vehicle Driver as described in the Federal Motor Carriers Safety Regulations.
Must be able to pass a physical agility test.
All applicants will be subject to extensive background checks!!
APPLY NOW to get started.